Click here

View Greater Omaha History
Click here
Click here

View Rose Packing History
Click here
Click here
View George's farms history

Click here

View Old Folks History
Click here
Click here
Click here
Click here
Click here
Click here
Click here
Click here
Click here
Click here
Click here
Click here
Click here
Click here
Click here
Click here
Click here
Click here
Click here
Click here
---


Rose Packing Company was established in 1924. They are a family committed to quality and service. When Louis Rose opened Rose Packing in 1924, he could not have known that he was creating a legacy that would endure through five generations of the Rose family. From modest beginnings as a boning house specializing in beef and pork trimmings for the sausage industry, this successful family-owned-and-operated business has become the premier producer of pork products, with a national reputation for quality pork processing. Rose Packing, now has more than 700 employees, has grown to include a Chicago production facility of over 200,000 square feet, corporate headquarters in Barrington, Illinois, and branch offices throughout the United States. In addition to its signature Canadian bacon, Rose produces a full line of fresh and fully cooked pork sausage, ethnic sausage, and back ribs. Rose's wide variety of bone-in and boneless hams, smoked pork shoulder butts, pork roasts, pork tenderloins, and labor-saving toppings complete the premium product mix.
Go back to top of page click here
---

Greater Omaha Packing was founded in 1920. It has seen steady growth with a clear vision of new frontiers within the beef industry. As demands change, leadership at Greater Omaha has continued to fulfill its mission. Its 100% Natural beef. Greater Omaha has set its 21st century mission to serve the ever evolving customer. Research shows that consumers want premium natural Angus beef. In response, Greater Omaha introduced the Omaha Natural Angus Beef. This brand was designed with the beef lover in mind. They are proud to serve Omaha Natural Angus at their own dinner tables. They believe if its natural beef, they have taken your dining experience to another level. They only use the finest grain fed natural Angus cattle from Nebraska and Iowa family farms. The products contain no artificial flavor, coloring ingredient, chemical preservative, or any other artificial or synthetic ingredient, and are minimally processed.
Go back to top of page click here
---


Because he liked to sit and listen to old folks talk, a Tennessee farm boy became known as "Old Folks". F.B. was accustomed to his family's homemade country sausage and found there was none available in the city, so he started making his own in the fall of 1932, using only the choice cuts from the whole hog. These were ground and combined with the right blend of salts, sages, and pepper. When packing his lunchbox for work, Daddy would take leftover biscuits from the breakfast table to go with his own "Purnell" sausage. Once he shared his lunch with a helper who enjoyed it so much he offered to buy whole hog sausage from F.B. That popular lunchbox started F.B Purnell in making old fashioned country sausage a business. In 1944, "Old Folks" gave up his job with the railroad because of a disability and the making of whole hog sausage from his special recipe became a fulltime family business. By 1955 "Old Folks" had purchased land in Simpsonville, Kentucky, and built a new plant with its own water and sewage system. The F.B. Purnell Sausage Company was here to stay. Since 1983, the sons have owned and operated the business.
Go back to top of page click here
---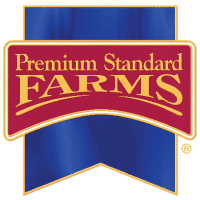 Premium Standard Farms, Inc. was founded in 1988. They are the second largest swine producer in the U.S. They are the most vertically integrated pork company in the US. The Premium Standard Farms, Inc. is committed to food safety, worker safety, animal welfare and the environment. They are customer focused and highly collaborative. They are focused on quality and strive to continuously improve. They never use electric prods. The hogs are kept in quiet slower moving groups and CO2 stunning is used at their plants to minimize hog stress and eliminate blood splash. Lower stress means better quality meat. PSF has been honored as the overall Best Taste Award winner for several years by the professional chefs of the American Culinary Institute.
Go back to top of page click here
---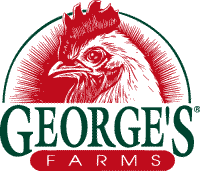 At George's, Inc. their people set the standard by providing consistent quality poultry products worldwide everyday. Their mission is to satisfy customers with consistent quality poultry products and service. Profitability and growth will be achieved through optimum product mix, efficient production and employee development in a safe and supportive work environment. The George's story begins in the late 1920's. The first George family business in Northwest Arkansas was a general store founded by C.L. George in the Brush Creek area, located just west of Springdale, Arkansas. Later C.L. moved the George family into Springdale and began operating the Farmer's Produce Company. This company specialized in hauling live chickens to markets in Kansas City, St. Louis, Detroit and Chicago. The company also dealt in fruits and vegetables. C.L. built and managed Farmer's Produce Company with the help of his two sons, Luther and Gene. From the very beginnings of the operation, C.L. and his sons took pride in satisfying their customers. The Georges believed that hard work and determination were the keys to customer satisfaction and success. After the deaths of his father and brother in 1969, the company was carried on by Gene George. That same year the company evolved into George's Feed and Supply. During the 70's Gene and his son, Gary, worked to see George's grow from a small family business serving local and regional markets to a major integrated broiler and egg operation which produces hundreds of different poultry products sold all over the nation and world. Since 1983, under the leadership of the George family, George's Inc. has more than doubled egg and quadrupled poultry production.
Go back to top of page click here